...and somehow managed to turn it into 12.5 or so!!! Instead of hiking from the Pali Lookout, which is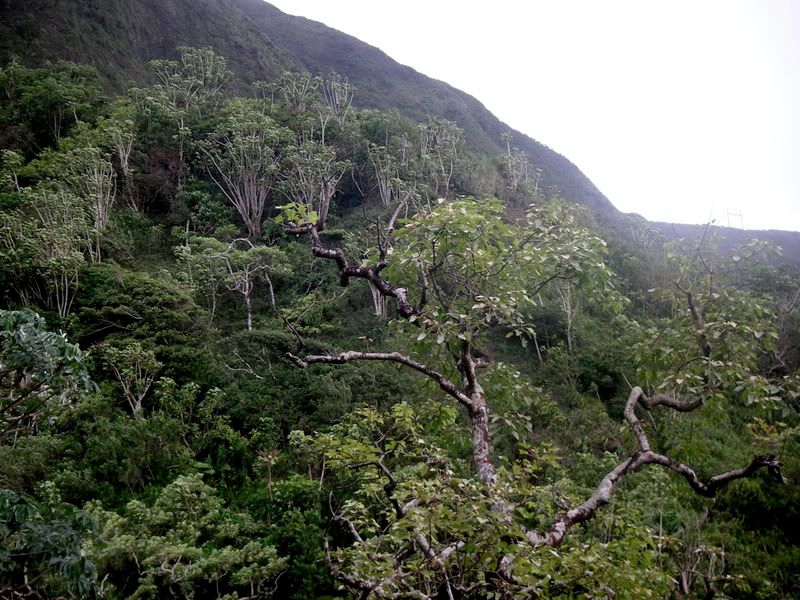 near Kailua, to Waimanalo (which is where Jeff and I got married, if you don't remember - see the second shot on the left), we managed to hike from Pali Lookout to Waimanalo BACK to Kailua and ended up at probably the most gorgeous, fancy country club I have ever seen,
Luana Hills Golf and Country Club
. We took one wrong turn on the trail that made the difference between coming out safely at Annie's car and coming out stinky and covered in mud amongst a bun
ch of people planning a wedding, and hiking up to the clubhouse to call a cab! So after we got back to Annie's house to get a third car, we had to pick hers up in Waimanalo and mine at the Pali Lookout. On the way back,
we ran into a couple who had lost their car keys on the trail and were locked out of their truck, so Annie gave them a ride back to Kaneohe while Kristin and I collected the Lancer. Afterward we were so exhausted! In fact, I think I am going to post pictures and go to bed - the pictures are in chronological order left to right, and the last one is the golf course (I am tempted to take up golf just to golf there; it was GORGEOUS).
--jess