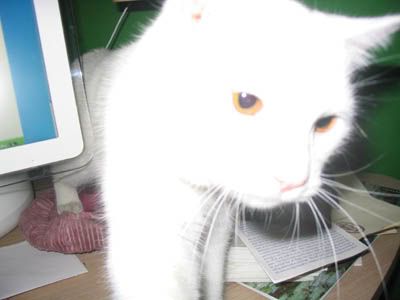 We had a pretty slow weekend - we decided to try to bring unnamed doggy home Sunday, but he isn't ready yet. He'll be joining us next Sunday - the people at the rescue wanted to make sure he had plenty of time to recover from his surgery.
Which means we will get the dog two days before Zeke gets here! He will be arriving at the Honolulu Airport Tuesday, August 22 at 1:50pm. This is an old picture of him terrorizing my computer desk in Columbia - his head looks huge because he was trying to attack my camera strap.
We threw a little dinner party with Dan and Annie Friday night and experimented with some delicious Greek recipes - stuffed grape leaves, marinated chicken, Greek salad and hummus and pita. The island lacks both Mexican and Greek restaurants, so Jeff and I have decided we're going to have to learn to cook both!
--jess