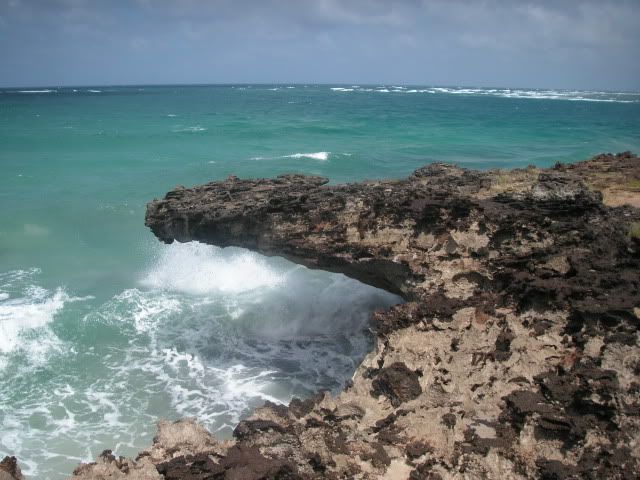 Jeff and I revisited the drive around the island Sunday. It was a lot different this time - first of all, when I drove it, I was in his car and had just gotten the windows tinted, so I couldn't roll down the windows! It was nice to be able to smell things and enjoy the weather. We stopped off in Laie (left) for a picnic and to walk around on the rocky cliff (it is a short cliff, but a cliff nonetheless! Jeff and I were speculating whether people jump off of it, but we figured they probably don't because the waves would smack them right into the rock unless the jump were timed perfectly). We were, of course, doing this in flip flops, and I stubbed my toe on the rock. So Jeff helped me back down to the water so that I could wash the blood and sand out of my flip flop, and I was thinking the whole time that I would attract a shark and become the indirect cause of some unsuspecting boogey boarder being devoured.
Two of the landmarks
along the road in Laie are Brigham Young University and the Polynesian Cultural Center. You can tell where the turns are by the enormous tikis (right). Across the street from the tikis was a bus stop where a rooster was strutting around like he owned the place - if you want to see him, check out the photo site
here
. I think I got desensitized to the idea of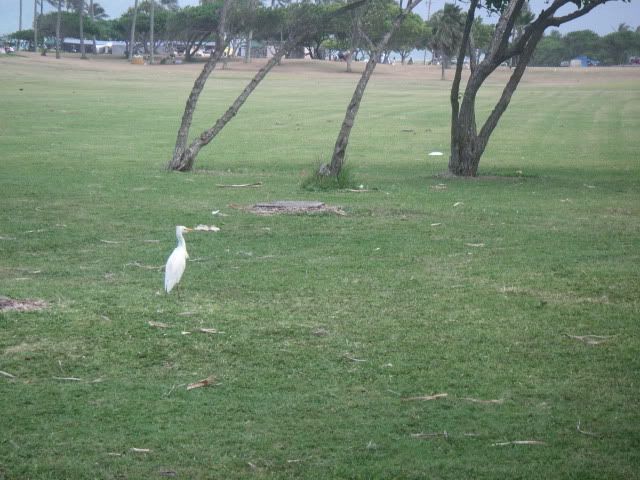 chickens running around in the wild being weird after going to Key West!
We stopped at a couple of other places on the way to Kaneohe, including a beach where Jeff relelentlessly chased this bird until he could get a picture of it!
Incidentally, this is the beach where Jeff chased the bird, and we were told by Dan and Annie that the island in the background is Chinaman's Hat.
After that, we decided to continue on 83 instead of hitting the H3 and coming home like I did - I thought maybe that way would take us through Waimanalo, but needless to say our efforts were thwarted by a dead end in the Marine barracks! Instead, we turned around and visited Dan and Annie (Dan was in ROTC with Jeff in college) and their dog, Buster in Kaneohe. We hung out at the beach in Kaneohe a bit before making the trek back home in time for dinner - it seems like a lot to see in one afternoon!
--jess