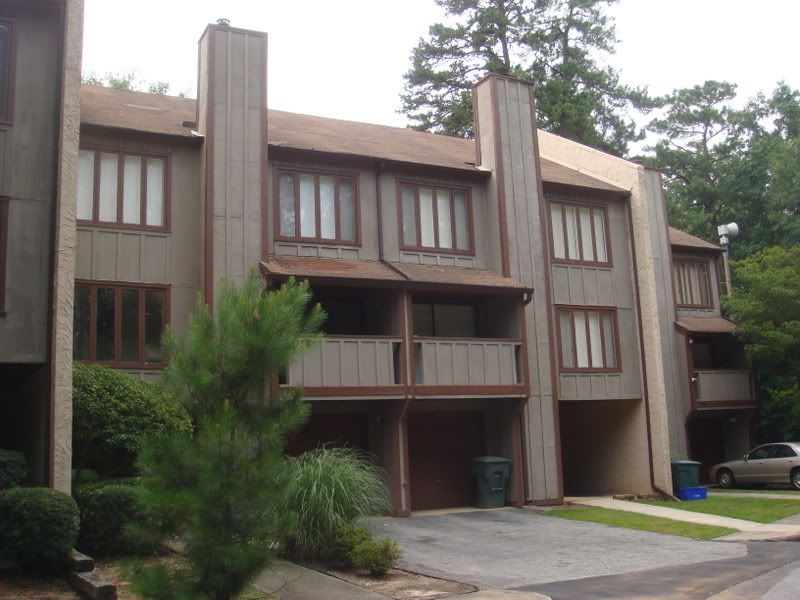 We've been very, very busy lately!
Jeff and I have made two trips down to the Carolinas this month for some home improvements before renters move into the townhouse in Columbia. Since most people who read the blog haven't ever seen the place, I figured I'd share. On the other side of the road in front of the townhouse, there is a row of trees, and when they lose their leaves in the winter, you can see a tributary of the Broad River from the balcony.

Unfortunately, we don't have many good "before" pictures,
so you'll have to use your imagination. The place was built in the 70s, so there was appalling wallpaper in the kitchen that had to be scraped off, and the cabinets are still ugly. It's a work in progress and we figured the granny smith apple colors make the ivory counter and appliances not look quite so dingy. We also put in new light fixtures and a range hood (to replace probably the biggest, heaviest microwave imaginable) and took out some shelving that didn't match anything. We have big plans for the kitchen should we ever decide to move back in, but for now, we're just happy that it looks better. It is very hard to photograph, by the way, because it is galley style and pretty narrow - I took the picture of the sink from inside the refrigerator!
I love the living area in the house; there's some awesome stone work around an old wood stove with exposed pipe in the living room, and it goes along with the rustic feel of the place. The floor was just replaced; just imagine the ugliest, most stained up tan shag carpet from the 70s and you'll probably be right on the mark for what was there before. Now we have laminate, something we were huge fans of in Hawaii.

The rest of the work the past weekend was a massive cleaning before renters move in. It was an ambitious task, and we were completely exhausted when we left Sunday morning. I think we're both still catching up on sleep! For more pictures of the renovation process, check out the
Photobucket album
.
We're in for lots of stuff this month and will try to be a little better about updating!

--jess