We have gotten a little behind on our blog posting, so I am going to attempt to do a quick and dirty illustrated summary of August and early September.
First off, I interviewed at Eastern Virginia Medical School's PA program in Norfolk late in August. Jeff and I really enjoyed having the opportunity to go to the beach, although it definitely wasn't Hawaii! I wasn't admitted to the program there (which would have started in January), but I have two more interviews this month in Philadelphia for programs that start in June of next year, and I am still waiting to hear from the Medical University of South Carolina (which I am, obviously, a little partial to). Jeff and I plan to make the most of the extra time we'll get to spend together.
The picture at the top is from the spontaneous trip to Dayton and Indianapolis we took Labor Day weekend to visit my siblings. In the picture is Linsey, me, and Casey's fiance
Amber. We also took an 8-mile canoe journey down the White River and are awaiting the pictures from Linsey's disposable camera.
I took a trip down to Charlotte early last week to visit my best friends from college, Nikki and Janice (unfortunately no good pictures came of it). I returned Thursday to a visit with Jeff's mom Rosemary, her husband Roger, and Jeff's brother Kevin. Picture to the right is Kevin, Rosemary and Jeff at Bob Evans yesterday.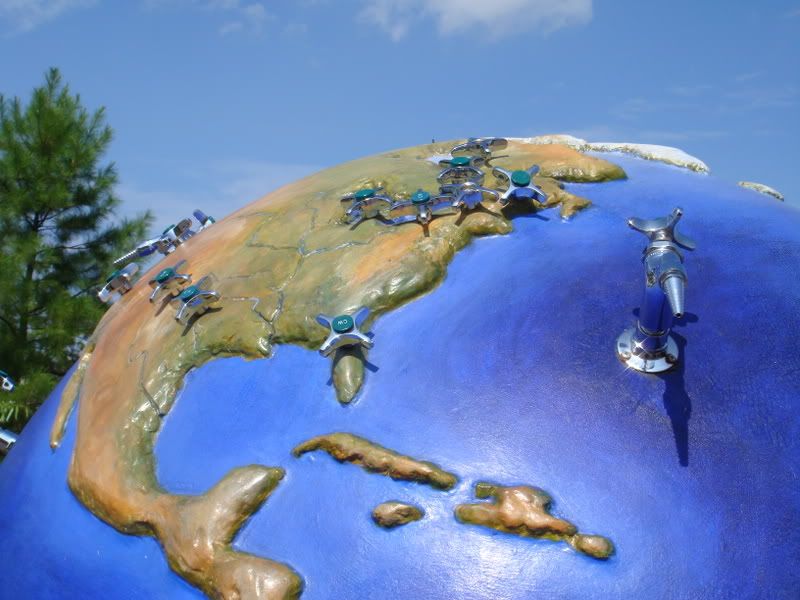 After touring monuments with the family, Jeff and I took a trip to the National Botanical Garden, which was gorgeous. We must have taken 70 pictures there, but I particularly liked the globes around the building with "green" themes like reduce, reuse, recycle and use renewable power. The garden and the conservatory are run with solar power.
There were a bunch of WWII veterans at the World War II Memorial on an honor flight - which reminded me of Grandpa, so I'll post a picture for him. He's coming for a visit in early November, and we're very much looking forward to it!
--jess